Tabin Wildlife Reserve is located in the eastern part of Sabah, Malaysia, on the island of Borneo. Considered to be the largest wildlife reserve in Malaysia, the reserve comprises a rectangular area of approximately 300,000 acres in the centre of the Dent Peninsula, north-east of Lahad Datu town, south of the lower reaches of the Segama River and north of the Silabukan Forest Reserve.
Our Vision
We aspire to promote the love and appreciation of nature's goodness and humor through Malaysia's Tabin Wildlife Hospitality.
Mission
To create a natural Malaysian wildlife experience with a difference, with warm and lasting memories, meeting the expectations of our guests in an eco-friendly manner.
Our Objectives

Tabin Wildlife Holidays Sdn Bhd objective is to operate on the East & West coasts of Sabah as Malaysia's Best Eco Nature and Adventure Tour & Resort Operator with a committed & inspiring team who exceed our clients' satisfaction & expectation in hospitality services, professionalism and innovation in order to make their each and every tour & stay in Sabah a truly unique and memorable Malaysia experience in an eco-friendly manner.
Created in the year 1984, Tabin has been declared a Wildlife Reserve primarily on account of the large number of animals inhabiting its forests, some of which are highly endangered. The three largest mammals of Sabah, namely Borneo Pygmy Elephant, Sumatran Rhinoceros and Tembadau are all found within the reserve; nine species of primate are present, as well as three species of cats all of which are on the protected wildlife list. Of bird species, 4 families representing more than 300 species have been recorded. Tabin Wildlife Reserve was listed as an Important Bird Area (IBA : MY027).
One of the highlights of Tabin being the active and mineral-rich mud volcanoes, attracting frequent visits by wildlife for their mineral intake and present an ideal platform for wildlife observation and bird watching.
The Wildlife Department of Sabah is the custodian of the animals in the reserve while the Forestry Department of Sabah is responsible for the trees in Tabin. The reserve is covered mainly with lowland dipterocarp forest.
Since the opening of The award winning Tabin Wildlife Resort in 2004, Tabin Wildlife reserve has gained popularity to be one of the best places in Sabah to observe the rich bio-diversity of nature and to part-take in nature based activities. Amongst the popular things-to-do in Tabin are jungle-trekking, night safari, night walk, wildlife-spotting, birdwatching and rainforest education. We are very proud of our involvement in sustainable responsible tourism initiatives such as to observe wildlife and nature in their natural habitats and to reduce impact by human on wildlife by maximum 5 pax per guide.
Latest birds list of Tabin
Tabin is a Geopark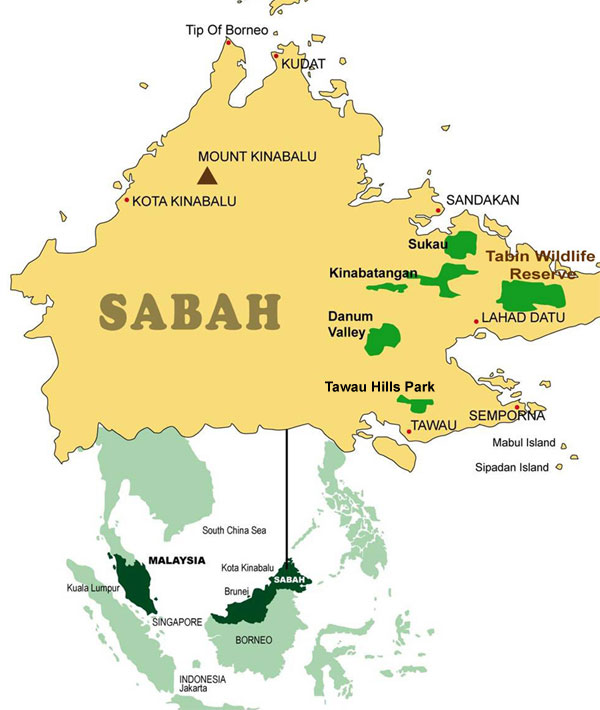 The Tabin Wildlife Resort has 20 units of lodges. 10 units of river lodges and 10 units of hill lodges. Each lodges comes with a twin-bedded, double-bedded or triple bedded room with en-suite bathroom & hot-water shower, air conditioner, ceiling fan and private balcony overlooking hillside forest or Lipad river.